DEPARTMENT OF INTERNATIONAL AFFAIRS
  Our Mission
The Department of International Affairs at Rai University, Ahmedabad is
dedicated to enhancing a vibrant international community and to
fostering cross-cultural experience. It focuses on Internationalization that
adds to the overall development of students, providing them an
international exposure & strengthening international partnerships in
order to enhance opportunities of students and faculty members, it facilitates
international collaboration and provides students the opportunity to become global citizens. We welcome, support and strengthen diversity through advocacy and holistic service. Enriching connections is our goal.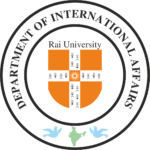 Various Initiatives
• Agreements and MOUs with International Universities
• Discover India Program & Delegations
• Student Exchange Programs
  Get connected for collaboration
Prof. Ashish Rami
I/C, Director, Department of International Affairs
E-Mail: internationalaffairs@raiuniversity.edu
(M) +91 7574858439